AB Inflatables just introduced two new jet boats at the Fort Lauderdale show, an 11-foot model and a 15-foot model.
The new tenders are the ABJET 350XP, the smaller one, and the ABJET 465XP, the larger (pictured above). AB's XP series features an open deck so you can move around the boat easily and safely; they also maximize space while optimizing stability and promoting efficient weight distribution.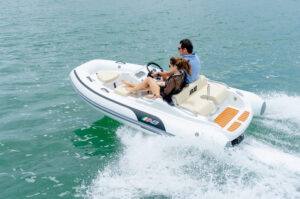 The 350XP (above) is powered by a BRP-Rotax 90-hp jet and has a top speed of 37 knots. It holds five people, weighs 761 pounds, and carries 11 gallons of fuel. And it is only 2' 10 inches high, with a removable wheel, so it can fit into a lot of yacht garages. (It also would be a lot of fun as a sport boat or a second boat.) The actual LOA is 11' 3", and the beam is 5' 10".
"Customers are always asking for more versatility, and that is what we have delivered here," says Jamie Cristancho, the AB marketing and sales manager.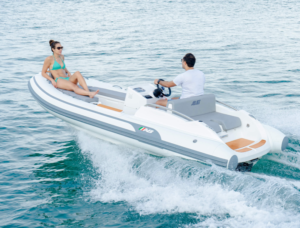 The 465XP (above) is powered by a BRP-Rotax 150-hp jet and has a top speed of 40 knots. It holds eight people (the bow seat converts to a sun pad), weighs 1,257 pounds, and carries 26 gallons of fuel. The LOA is 15' even, and the beam is 6' 7". And it's 3' 8.5" high.
Both boats will be shown next at the big Düsseldorf show in January. See the 465 in action in the video below, and read more at http://abinflatables.com