If you want to add a little juice to your life in these trying times, try the Brabus Shadow 500, built in conjunction with Axopar Boats. It's a tricked out, semi-custom version of the Axopar 28, and it hits 50 knots with twin 250-hp Mercury outboards. You can order it with an open deck or optional aft cabin. Fun, as in a major adrenaline rush, is standard equipment.
The fun comes from Axopar's twin-stepped hull with a sharp entry and 22-degree deadrise at the transom, all driven by two Mercury V8 Pro XS outboards. The lightweight Mercs produce head-snapping torque; firewall the throttles and you'll leave the cares of the everyday world far behind.
The looks come from the collaboration with Brabus. Axopars are produced by an innovative builder in Finland, and they've quickly developed a wide following both in Europe and in the parts of the U.S. where they've been delivered. For its part, Brabus is a German company that transforms high-end cars (think Mercedes-AMG) into even higher-end, semi-custom luxury vehicles.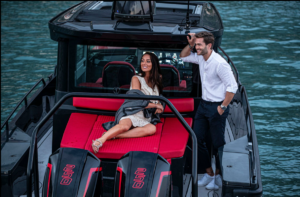 The regular Axopar 28 turns heads as a high-performing day boat, weekend cruiser, picnic boat, second boat, tender, or all-around-fun vessel. The Brabus Shadow 500, with its iconic gun-metal gray paint and red-leather upholstery turns the standard Axopar into a sought-after luxury, a head-turner underway or at the dock in Nantucket, Key West, or Newport Harbor in Southern California.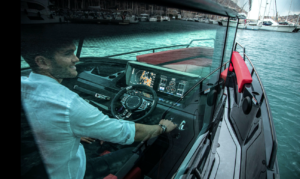 The pilothouse has separate captain's and navigator's chairs, with an optional fridge and sink underneath. The split sofa aft converts into a berth sleeping one or two people. The optional aft cabin sleeps two; it has wide side windows, storage space under the mattress and a large overhead hatch. In the Brabus version, there's a leather carpet, an Alcantara mattress on the  bed, and lots of Brabus fine leather with red contrast stitching.
The Brabus touch even extends to the forward head, which is upholstered in Brabus leather, with an electric flush toilet, a large mirror, and a cabinet with a black Corian countertop and sink.
Specs.: LOA: 31'9"; Beam: 9'8"; Draft: 2'8"; Disp.: 6,173 lbs.; Fuel: 74 gals.; Water: NA; Power: 2×250-hp Mercury outboards. Read more: