The popular seven-month, 4,500 nm Panama Posse, a no-schedule, multi-route cruising odyssey from Mexico to Florida, kicks off this week from Barra de Navidad, Mexico. The rally was started in 2017 to promote safe cruising and to help boats navigate the Pacific Coast through the Panama Canal and up to Florida at the start of the cruising season.
The first year the rally attracted 83 boats; the second year, 123 boats, and last year it had 178 boats. This year, with many cruisers worried about traveling during the pandemic, 153 boats have signed up. Initially, the rally was almost entirely made up of sailboats, although the number of powerboats has been growing each year. A boat has to have a range of 500 nm to participate. This year, nine Nordhavns have joined so far.
The Panama Posse is organized, and offers discounts at 39 marinas in 13 countries, plus information about 500 anchorages and 24/7 group communications among participants. At the same time, it leaves schedules entirely up to each participants; you set your schedule, you keep your own pace.
The festivities start at Marina Puerto de la Navidad, Barra de Navidad, Mexico (pictured above), but you can pick your own timeline and departure and arrival ports. The Posse organizers have outlined six different routes, with participating marinas, verified anchorages and fuel sources along the way.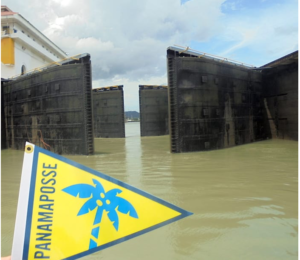 For anyone going the whole way, the journey includes Mexico, Guatemala, El Salvador, Honduras, Costa Rica, Panama and the Panama Canal, Colombia, Jamaica, Roatan, the Yucatan Peninsula, Cuba, and Key West.
The main attractions of the Posse include the idea of safety in numbers, as well as the continually updated cruising information. Each week participants from each of the six different routes send out information about weather, anchorages, and current cruising conditions. Read more: