Iridium just launched the first world-wide, real-time emergency marine distress service. The new Iridium Global Maritime Distress and Safety System (GMDSS) started last week; it is the first immediate response and rescue service that works anywhere in the world, even in the Arctic and Antarctic.
At a virtual press conference from its headquarters in McLean, Virginia, Iridium officials said the new service can provide life-saving help to mariners at sea. "This is a historic moment in both the satellite and maritime industries," said Iridium CEO Matt Desch. "It is not every day that you get to announce the launch of a service that will most certainly save lives and is bringing innovation to this important maritime service."
GMDSS is an international regulated service governed by the International Maritime Organization's Safety of Life at Sea convention.
Iridium has formed a partnership with Lars Thrane; the Lars Thrane 3100S terminal is the first to provide the global GMDSS services. Peter Thrane, CEO of Lars Thrane, said, "The low-earth orbiting Iridium network with interconnected satellites allows us to offer multiple services throughout all the world's waterways in a single compact terminal."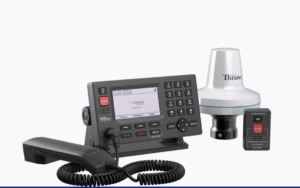 The new terminal offers GMDSS services including voice, texting and data services with a built-in GNSS/GPS receiver. Those services include navigation and weather warnings that will help mariners avoid danger.
The GMDSS service is built in Iridium's $3 billion satellite network, completed last year, and uses the company's L-band satellite spectrum with a weather-resilient complement. It is designed to create a safe environment for the 85 percent of the world that does not have reliable cell phone coverage. Iridium already has more than 1.4 million subscribers around the world.
The service is certainly user-friendly. Once a mariner holds down the red distress button on the terminal, a signal travels up to the worldwide Iridium satellite network and then to the nearest Rescue Coordination Center. The signal is followed by a distress phone call (in a technology that is new to the Iridium system), so the mariner can actually speak to someone at  the rescue center and help that person understand the nature of the emergency. The rescue center then alerts nearby vessels and search-and-rescue authorities immediately. See the video below for more details, and read more at http://iridium.com/gmdss