ICOM just launched its new breakthrough IC-M94D handheld VHF, the first in the world with built-in AIS. Combined with DSC (Distress Signal Calling), AIS (Automatic Identification System) is a boon to boating safety and secure navigation. Until now, AIS was limited to larger VHF units and helm-mounted display screens.
With the new Icom, you can have all the safety and communications features (receive only) of AIS in the palm of your hand. You can use it on a smaller boat, a dink or simply as a back-up system on a larger vessel.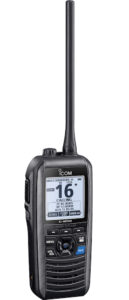 The M94D is a significant VHF even without the AIS component. It has built-in GPS, with all the usual nav functions, without any external attachments. It has 6W power, a distress call button built into the rear panel, it's waterproof (and it both floats and flashes if you do drop it in the water), it has a weather alert, an MOB function, and dual- and tri-watch scanning so you can monitor multiple channels at the same time.
But it's the AIS function that's groundbreaker here. It lets you communicate with other vessels using the regular VHF handheld transmitter. It displays other vessels' positions and movements on the screen, as well as their name. On the AIS screen, the target vessels will show as triangles, with the apex indicating the direction it is going.
Then you can select a target and send it a message via DSC and you can see details of the target. For maximum safety, you also can preset an alarm for CPA, closest point of approach, and TCPA, the time to CPA.
Icom expects to start shipping the M94D units this month. They cost about $300. Read more: