Sarvo Marine in Denmark is finishing work on a new all-electric 37-foot boat that pushes the boundaries of speed, power and looks in a shimmering aluminum hull.
The company says the Sarvo 37 will hit a top speed of 70 knots when it's launched in June. (The problem is, it will only run at that speed for 15 minutes or so, before it runs out of juice, but then, how long do you really want to run a boat at 70 knots?) If you dial back to 10 knots or so, the boat has a range of 100 nm. An auxiliary battery pack is carried on board and it can be manually connected if you accidentally run out of power and need to get home.
And you can recharge it in less than an hour, if use a 350kWh Nerve Smart charging system. It will take much longer with lower-output charging systems.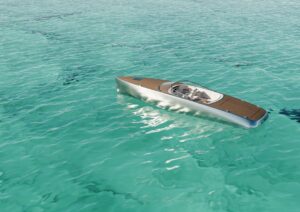 The Sarvo 37 is a design and power breakthrough for electric boats. It has four 320-hp electric motors, for a total of 1,280 hp. And the entire boat weighs in at just 10,538 pounds. This is a power-to-weight ratio that makes a Porsche look like an elephant.
The battery pack produces 350kWh and is part of the boat's electric system invented by Jonas Voss, Sarvo's chief engineer who has worked on high-performance electric cars. It works with a drive system that's somewhat akin to a surface drive, where the prop cuts into the water from above, rather than being positioned under the surface.
The aluminum hull, with its minimalist, modern Scandinavian design, has a sharp entry to cut through the water; it then flattens out for stability aft. The hull is made from 60 percent recycled aluminum; it's designed for low-maintenance, corrosion-free performance.
The interior of the Sarvo 37 uses synthetic wood for a warm look. It's paired with weather-resistant imitation leather upholstery. There's a cooler for drinks under the  helm seat, and a separate cooler for champagne. Below, the boat has a custom twin bed. There's not enough space for a full galley, but there is a coffee station, plus a full head.
Specs.: LOA: 36'9"; Beam: 10'1"; Draft: NA; Disp.: 10,538 lbs.; Fuel: NA; Water: NA; Power: 4×320-hp electric motors. Read more: