A New York couple, whose business is restoring Brooklyn brownstones, have given new life to a 1987, 49-foot Lord Nelson Victory Tug. They now keep the tug, named Lucy after their late dog, at a marina in the East River, ready to head up the Hudson for a short cruise or up Long Island Sound for a vacation in Nantucket with their two young children.
In their day jobs, Lyndsay Caleo Karol and Fitzhugh Karol are co-founders of the Brooklyn Home Company. So far, they have restored more than 30 homes there. But their hearts belong to Lucy.
The story starts when Lyndsay was on vacation on Canandaigua Lake in upstate New York, and she saw a Lord Nelson tug there. In her mind, she saw future family vacations afloat.
She started looking at tugs, and in 2015 she found one at Billings Marine in Stonington, Maine. Under its original name of Annie's Girl, the boat had been named queen of the Miami show in 1987. But now the Taiwan-built tug, with a single 300-hp Cat diesel, had been sitting on the hard for four years; it needed a lot of help.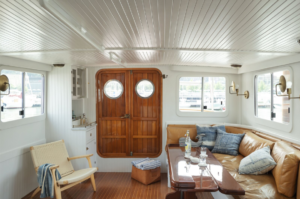 The renovation project took two years, and when it was finished the Karols were married on the boat on the Brooklyn waterfront. But the restoration wasn't easy.
The Karols replaced the wiring systems first, using three large garbage bags to get rid of the original wiring. Then they refinished the teak and holly sole, and painted the interior white. They opened up the galley and salon, even removing the original cabinets over the peninsula in the galley to add more space, and added a custom brass bar with heavy custom stools that won't topple over when the boat's at sea.
The idea was to make the boat timeless and to keep the nautical heritage, while lightening it and making it more open. They also redid the heads, added a pilot berth behind the helm in the wheelhouse, and made the top deck, which had been used for storage, an open-air dining area, with a table and chairs – and great views while cruising up the East River. Read more:
https://www.dwell.com/article/lucy-the-tugboat-the-brooklyn-home-company-b0136173