You'll have to watch the weather even more closely if you're cruising on the Atlantic coast later this year. The Atlantic hurricane season will be worse than usual.
At least that's the prediction from the Colorado State University Tropical Meteorology Project, which is considered an expert on these things. The project predicts 17 named storms, eight hurricanes and four major hurricanes (with winds more than 115 mph) this year. All those are above the 30-year average.
"We anticipate that the 2021 Atlantic basic hurricane season will have above-normal activity," said Dr. Phil Klotzbach, the head of the project.
The official hurricane season runs from June through November, but in the previous six years (and 10 of the previous 18), storms have hit outside those months. Last year, for example, tropical storms Arthur and Bertha formed in mid- to late-May.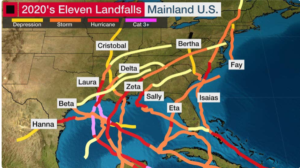 "We anticipate above-average probability for major hurricanes making landfall along the continental United States coastline and in the Caribbean," Klotzbach said. "As is the case with all hurricane seasons, coastal residents are reminded that it only takes one hurricane making landfall to make it an active season for them. They should prepare the same for every season, regardless of how much activity is predicted."
Last year, a record 11 storms made landfall in the U.S., including six hurricanes – Hanna, Isaias, Laura, Sally, Delta and Zeta. (There were so many that the entire Greek alphabet was retired at the end of the season.)
The Colorado State experts say it's impossible to know if a hurricane will hit the U.S. this year. But they say that even a weak tropical storm hitting the U.S. can have a major impact, particularly if it is slow moving and causes a lot of flooding.
They make their predictions based on about 40 years of statistics and data from seasons involving sea-level pressure and sea-surface temperatures in the Atlantic and Pacific. Read more:
https://weather.com/storms/hurricane/news/2021-04-08-atlantic-hurricane-season-outlook-april