Some big changes are coming at the legendary Kadey-Krogen Yachts and Summit Yachts, its new brand.
From its headquarters in Stuart, Florida, Kadey-Krogen just announced that it has secured equity capital to grow from an investor, and the company says the new infusion will fund a multi-year innovation and strategic plan that will be launched in August; the plan will include details about new models.
Just two years ago, Kadey-Krogen introduced Summit Yachts, designed to appeal to younger owners, or those who just wanted to go faster than the 8-knot trawler speed of the full-displacement Kadey-Krogens. The Summit 54 (pictured above) has a hull designed by Michael Peters (who's worked on everything from Hinckleys to performance boats) and a range of 330 nm at 23 knots. Summits are made in Taiwan, at the same yard that has built more than 600 Kadey-Krogen trawlers over the past 42 years.
Kadey-Krogen also announced some management changes, starting with the retirement of Tom Button, who's been president and a partner for 20 years. He joined the company after he bought a Kadey-Krogen 42 trawler. "It's been such an enjoyable and rewarding adventure for me," he said. "My goal was always to nurture the legacy of Art Kadey and Jim Krogen. Looking back, I feel confident to say that we accomplished just this."
Tucker West has been appointed the new president and CEO. West, from Newport, Rhode Island, has spent more than 25 years in the marine industry, including time at Sunsail Yacht Charters and Grand Banks.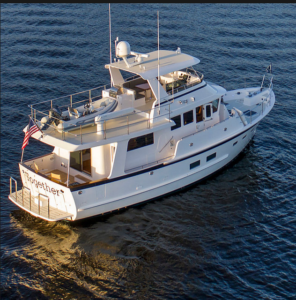 In another change, Kadey-Krogen announced that Larry Polster will no longer be a partner but will still work in sales and customer service. "Having someone with Larry's boating knowledge and experience serve as a conduit between the builder and the customer is invaluable," West said.
Polster and his wife Janet bought hull number one of the Kadey-Krogen 50 Open series four years ago (pictured above) and they moved aboard two years ago. They are now cruising in the Bahamas, and Polster just posted this picture from Great Harbour Cay: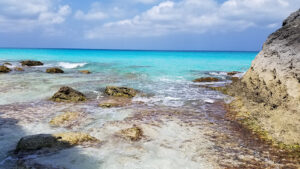 Read more: http://kadeykrogen.com