In 1989, Mauro Morandi was trying to sail around the world. His engine died and he ended up on the Isle of Budelli near Sardinia. He's been living there, as the sole inhabitant, ever since. Now, Morandi, who's now 81 years old, has been forced out. Read about him in this story in the Daily Mail:
An 81-year-old man known as Italy's Robinson Crusoe who has lived alone on an island for 32 years is finally moving after surrendering his eviction fight.
Since 1989, Mauro Morandi has been the sole inhabitant of the Isle of Budelli near Sardinia, after he decided to ditch his life as a PE teacher and become the island's caretaker when he washed up on its iconic pink beach Spiaggia Rosa.
The island's previous caretaker was on the verge of retirement when Morandi arrived so he abandoned his sailing plans, sold his boat and took over the role.
He had been sailing to the south Pacific when his catamaran's engine failed and he headed towards the picturesque island.
But five years ago, the Italian government made the island part of a national park and they have been attempting to evict the hermit.
He has finally given up the fight will move into a small apartment on the nearby La Maddalena island, the largest in the archipelago, according to The Guardian.
Morandi's current home is a former WWII shelter overlooking a bay and over three decades he has become acquainted with the island's animals, trees and rocks.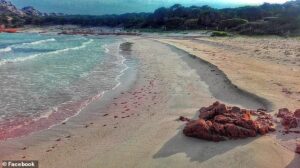 The authorities have also argued he has made changes to his building without the necessary permits.