Nordhavn owners got together in Poulsbo, Washington, last week, for their annual event called Nordhavn Across Puget Sound (NAPS). As it turned out, 37 Nordhavns came to the Port of Poulsbo Marina, and 13 more Nordhavn owners came without their boats. This was the largest gathering of Nordhavns ever, and more probably would have come except the border with Canada is closed because of the Covid-19 crisis.
The NAPS rendezvous was started by Nordhavn owners in 2018 simply as a way to get together and share notes about their boats, stories about their adventures, and plans for voyages to come. The first NAPS, at Port Ludlow, Washington, involved nine boats and two owners without boats. The next year the rendezvous was at Cap Sante Marina in Anacortes, Washington, and had 19 boats (many on their way to the Inside Passage), and six owners without boats. Last year, the rendezvous was scheduled for Victoria, B.C., but it was cancelled because of the pandemic.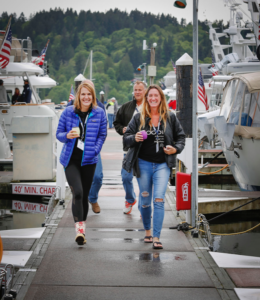 Poulsbo, a historic little town at the top of Liberty Bay, just above Bainbridge Island,  turned out to be a popular spot. It's called Little Norway, because Norwegians settled there in the 1880s; the bay waters and the mountain vistas reminded them of home. For a few years, Norwegian was the only language spoken there.
Today, the marina is a protected spot for cruising boats, while the picturesque town has an Arts District filled galleries, and there are boutiques, cafes, bars and waterfront restaurants. The town has a science center, aquarium, and waterfront park. If you don't have a boat, you can catch a ferry from Seattle.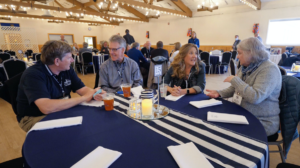 Over a long weekend, the Nordhavn owners had a pizza party, cocktails, a raffle, and many long hours socializing on each other's boats. There was a lot of interest in the new Nordhavn 41, the company's latest boat, and a replacement for the Nordhavn 40 that cruised around the world in 2001 and 2002, the smallest production boat to complete a circumnavigation.
You can see a video of the NAPS rendezvous, taken by Elizabeth Krenke of Freedom, a Nordhavn 43, here: https://drive.google.com/file/d/1x0v7vX82-dgzqxqbvqLbSRY_yQJglSUj/view