Sir Richard Branson's luxurious Necker Island resort in the British Virgin Islands has now fully recovered from the hurricanes and has just come up with a Private Family Hideaway package involving a six-person private jet, a private pool, a DJ, and rooms for all for just $137,000 for a week.
This month, Branson formed a partnership with evoJets to offer "the ultimate exclusive luxury experience in a setting that is just about as exclusive as it gets." The exact price varies according to the departure city; the above far is from New York. The flight is round-trip to Beef Island with a launch transfer to Necker, out on the edge of the BVI.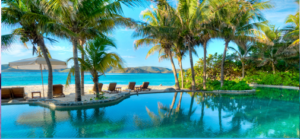 The Private Family Hideaway includes rooms in the Bali Lo complex in the middle of the resort, meals, drinks, and two freshwater infinity pools (in addition to its own), a hot tub on the beach, two floodlit tennis courts, wireless internet, and all sorts of water sports equipment – wake boarding, kite boarding, SUPs, snorkeling and some sailing. You also get your own DJ for one night.
Aside from this package, the resort sleeps 40 guests in 20 bedrooms (including 11 in the Great House). If you have a larger group, there are additional rooms on Moskito Island nearby.
If you don't want the new family package, the current rates start at $5,150 for a room for two in the Great House per night, with a seven-night minimum, including all the meals, drinks and amenities in the family package plan. A Great House suite costs $8,000, per night, based on seven-nights.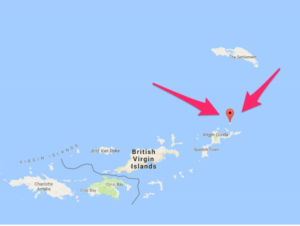 Branson bought the 74-acre island in the '70s for $180,000 and spent millions making it one of the most sought-after luxury resorts in the world. Over the years, guests have ranged from Barack Obama and Nelson Mandela to Kate Moss and Kate Winslet. Read more:
http://virginlimitededition.com