Arksen, the innovative British builder, just announced that it's planning three new explorer-type yachts, the Arksen 45, 65, and 85. The 45, pictured above, will be launched later this  year. The 85 is scheduled for next spring, and the 65 will be launched sometime after that.
The 45 is designed as a go-anywhere, off-the-grid cruiser that can function as an explorer, a chase boat, a dive boat, whatever. It is being built in the UK, with a composite hull with foam-filled D-tube fendering all around in partnership with Ring Powercraft, which specializes in RIBs and fast sport boats.
The Arksen 45 will be powered by triple outboards, but diesel sterndrives or waterjet propulsion are also available. With the outboards, it will have a top speed of 50 knots and a range of 500 nm. It's designed "to provide a safe and comfortable ride in some of the world's more challenging locations," says Arksen COO Ewan Hind. The boat will have a separate forward cabin, a stand-up shower in the head, and up to four berths.
We have written about the 85 previously. It will be the first of Arksen's aluminum series of long-range expedition yachts. The hull was designed by Humphreys Yacht Design in the U.K., with the interior by Design Unlimited; it's being built at the Wight Shipyard in Cowes.
With hybrid power and solar cells, the 85 will carry 4,777 gallons of fuel, and have a range of about 7,000 nm at 8 knots; it will top out at 14 knots.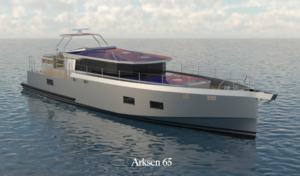 The new 65 explorer (pictured above) is designed as an owner-operator yacht, with a plumb bow and two decks. Like the 85, it will be built from recycled aluminum. Owners can order it with two or three cabins. In the two-cabin version, there's an option of an owner's study or a galley on the lower deck. With a twin-engine hybrid set up, it will have a range of 3,500 nm, giving it a trans-Atlantic capability. It also has a relatively low draft of 3' 6" (and an air draft of 11' 1") so it can easily cruise through the Europe's rivers and canals. Read more: