The Moorings just announced that their marina in Corfu, in the northwest corner of Greece on the Ionian Sea, is now open for charters. One of the most glamorous destinations in the world, Corfu is one of the seven Ionian islands, and offers everything from gorgeous beaches and snug harbors to lively tavernas and waterfront resorts.
With a charter from Corfu, you can explore the smaller Ionian islands, as well as make forays to historic ports of call along the Greek mainland. Many cruisers think the Corfu waters offer the best cruising in Greece. They certainly are among the most historic, including the island of Ithaca, known for its king , Odysseus, the hero of the Trojan War and of Homer's epic poem Odyssey, about his ten-year journey home after that war.
In addition to its history, Corfu has a distinct international flavor. For centuries it fell under Venetian, French and British rule, until it united with Greece in 1864. The town of Corfu is flanked by two imposing Venetian fortresses, and it has winding, medieval cobblestone streets, a grand palace and a French-style arcade. The homes are whitewashed with colorful doors and trim.
You can visit museums, churches and monasteries, walk down the Liston promenade, stroll around the large Spianada square, and visit Mon Repos palace, where the late Prince Phillip (husband of England's Queen Elizabeth) was born. The beaches and sandy coves on Corfu are surrounded by green forests and mountains; they are considered some of the best in Greece.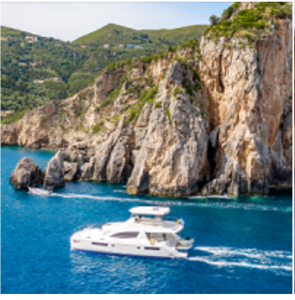 Around Corfu, navigation is easy. The mornings are usually calm, with winds building to 10 to 15 knots from the northwest n the afternoon. The tidal range is just one to two feet, and tidal currents are almost nonexistent.
Because of the Covid pandemic, visitors to Greece must complete an entry form at least 48 hours before departure. The Moorings offers many types of charters in Corfu. For powerboats, you can bareboat or hire a skipper. A bareboat charter for seven nights starting July 3, for example, on a Moorings 514 power cat with four cabins, starts at $14,999 for two passengers. Read more: