Team New Zealand just gave a big boost to the development of hydrogen power in recreational boating when it announced it is developing hydrogen-powered foiling chase boats for the next America's Cup campaign.
For years, RIBs have been the standard chase boats for most America's Cup campaigns. But now Team New Zealand is working with AFCryo, a Christchurch company, to develop a hydrogen chase boat. They just released renderings of a prototype, a radical foiling catamaran with four hydrogen tanks in each hull and electric motors built into the foils and rudder.
The hydrogen-powered boats will be built at the team's North Shore facility and they will need to be sturdy enough to withstand the long Cup campaigns, where teams can be involved in 20 or more races, and hundreds of pre-Cup tune-up races.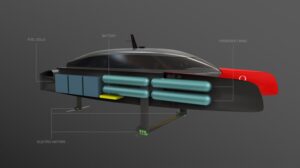 Team New Zealand has viewed itself as a technology company as well as a world-champion sailboat racing operation. It designed the radical foiling 75-foot monohulls that were introduced in the last Cup races in Auckland in March. AFCryo has been working in the cryogenic (the production of materials at very low temperatures) and superconducting industries for the past 17 years.
It is possible that the Protocols for the next Cup races will contain a requirement that all teams must use hydrogen support boats.
"We intend to really drive the development curve of new and clean technology in the marine industry," said Grant Dalton, the CEO of Emirates Team New Zealand. "It is our hope that we can make a seismic shift into hydrogen power and an emission-free statement for the industry."
And Sir Ben Ainslie, principal skipper of INEOS Team UK and the Challenger of Record, said, "With so much investment in hydrogen around the world, shifting to foiling chase boats, powered by hydrogen, could well prove to be a sustainable and practical solution for the future of the marine industry, while supporting the AC75s, which are reaching speeds in excess of 50 knots." Read more:
https://emirates-team-new-zealand.americascup.com/en/news/526_EMIRATES-TEAM-NEW-ZEALAND-TO-DRIVE-INITIATIVE-IN-MARINE-INDUSTRY-WITH-HYDROGEN-INNOVATION.html