Sealegs, the New Zealand amphibious boat maker, just announced that they are developing a new 3.8m (12' 5") Tender, their smallest yet. Sealegs says it is taking orders for the new amphib now and will roll out the first production models in 2022. We don't have a price yet.
The 3.8 Tender, created to fit on larger cruising boats, takes exploration by tender to a new level. With a standard 40-hp Yamaha outboard, the 3.8m has a top speed of 34 knots on the water.
But when you roll up to a beach or want to explore a new shoreline, the 3.8m can climb out of the water, just like its larger siblings, and hit 5 mph on land. The new 3.8m has permanent all-wheel electric drive for its three oversized tires, and it's powered by a 3kWh battery pack.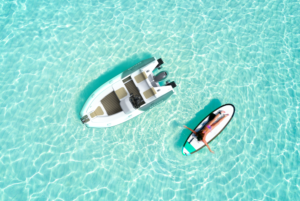 On land, the new Sealegs has a continuous running time of 45 minutes. A full recharge takes three hours.
The 3.8m Tender has an air draft of just 3' 3" when the wheels are up, so it could fit in the garage of the mothership, on a large swim platform, or even on deck. The beam is 5' 9." It has two forward-facing seats aft, a bench seat next to the console, and a rear-facing seat on the bow, with a locker underneath.
The 40-hp Yamaha is the only engine offered, but upgrades include a Simrad MFD, Fusion stereo, and a 12V pump to inflate the four-chamber Hypalon tubes.
We don't have a video of the 3.8m yet, but there's one of the 7.5m below. Read more at http://sealegs.com