The fast-ferry Grey Lady IV collided with a Hinckley powerboat in fog as it rounded Brant Point in Nantucket Harbor about 9 p.m. Friday night. The 151-foot ferry, capable of holding 493 passengers, was knocked off its course and then hit an unoccupied sailboat in the mooring field.
No one was injured in the accident. The bow of the Hinckley, named Razor Bill, was damaged above the waterline, according to Murray Scudder, president of Hy-Line Cruises, which operates the ferry. The Razor Bill was able to return to its slip near The White Elephant.
The Grey Lady IV was arriving from Hyannis on Cape Cod. Passengers said it slowed down as it entered the harbor's no-wake zone. They then felt a "crunch," and it stopped.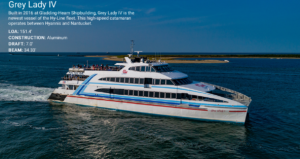 The ferry then went to the ferry dock where the passenger disembarked. It boarded passengers for the return trip to Hyannis, but the Coast Guard issued a no-sail order that prevented it from leaving. The no-sail order was lifted the next morning. The Coast Guard is investigating.
The Grey Lady IV, an aluminum-hulled catamaran, is the latest and fastest ferry in the Hy-Line fleet. It was launched in 2016. Powered by four 2,200-hp Cummins diesels, it has a top speed of 34 knots. Read more:
https://www.ack.net/stories/hy-line-fast-ferry-strikes-unoccupied-sailboat,25205
https://www.nbcboston.com/news/local/nantucket-bound-fast-ferry-collides-with-fishing-boat/2432721/