Saxdor, the new, creative builder from Finland, just introduced its new 320 GTC with a full-beam wheelhouse, providing much more room for the six people seated inside the 45-knot speedster.
Last year, Saxdor launched the 320 with a T-Top, but now the 320 GTC provides all-weather protection as well as a more space inside. In the 320 GTC, you can reach the foredeck through a door in the front of the wheelhouse.
Saxdor was founded at the end of 2019 by Sakari Matilla, who also was a founder of Axopar and several other boat companies. Saxdor now joins Axopar, Nimbus and other builders in creating a genre of outboard-powered, low-profile, aggressively styled boats that have become popular in Europe and in the U.S. as well.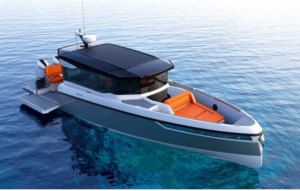 Inside the Saxdor 320 GTC, six people all have forward-facing seats. The canvas sun roof peels back for light and air on sunny days. Below, a double berth is forward and there's a separate head.
The foredeck has a sun lounge with a back for two people, sunken for protection. Another sun pad with a sliding backrest is aft. A terrace descends from each side of the cockpit at the push of a button.
Saxdor offers three power choices: A single 300-hp Mercury outboard; twin 225-hp Mercury outboards, or twin 300-hp Mercury outboards. The boat has a two-stepped hull for performance.
Specs.: LOA: 33'7"; Beam: 10'2"; Draft: NA: Disp.: 5,200 lbs.: Fuel: 118 gals.: Water:26 gals.; Power: 2×300-hp Mercury outboards. Read more: