Despite Covid-related disruptions in supply chains and disappearing or already depleted inventories of boats around the world, some dealers still have some types of boats on hand. Northstar Yacht Sales in Portsmouth, Rhode Island, for example, has some high-quality BRIG RIBs for sale, and is expecting more in November.
BRIGs are well known in other parts of the world. Indeed, the company says they are the largest producer of RIBs in Europe, and the biggest-selling brand in Australia, Sweden, Holland, Finland and the UK. BRIG made more than 2,500 boats in 2019, before the pandemic. They are made in Ukraine by a team of former military aeronautical engineers, who insist on exacting standards and tough boats.
BRIG produces three models of RIBs, from 9'6" to about 33 feet. The Falcon line is the smallest and most basic and usually used as a tender. The Eagle line is next and is made for families and comfort, with a sun lounging area and accessories such as a shower. Navigators are the largest and are built with a deep-V hull for rough weather and sea conditions.
The Falcon Tender 300 (pictured at top) is 9' 6", with a 5' 5" beam. It only weighs 253 pounds, but it can hold four passengers. It's powered by a 20-hp Suzuki outboard.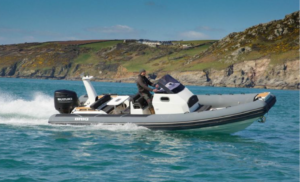 The Eagle 8 (above) was named the RIB of the Year by Motorboat & Yachting in 2020. It's 26' 2" long with a 9' 6" beam and a dry weight of 2,513 pounds. The extended bow converts to a sundeck and it has a head. The Eagle 8 can hold 16 passengers, and it's powered by a 300-hp Yamaha.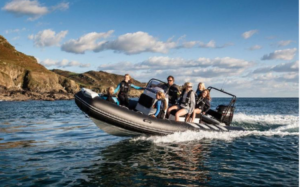 The Navigator 610 (above) is 20 feet long with a 7' 7" beam and a dry weight of 1,256 pounds. It can hold ten passengers and is powered by a 100-hp Honda. All BRIGs sold in the U.S. have Hypalon tubes. See the video below and read more at http://northstaryachtsales.com and http://brigusa.com