The new, lightweight Aroha 29 was launched at the Brooklin Boat Yard in Maine a few months ago. It then was taken down to the Newport boat show where it was entered in the new green products category.
The Aroha is indeed fuel efficient. Powered by a 38-hp Beta Marine diesel, the wooden coastal cruiser will cruise at 12 knots and top out at 16 knots. What's most remarkable is the Aroha's fuel burn: 0.26 gallons per hour at 7.5 knots, and 2.1 gallons per hour at 17.5 knots.
The boat's back story starts in New Zealand, where Maynard Bray, the founder of Off Center Harbor (a publisher of boating books and videos in Brooklin), saw a Whio, designed by Peter Sewell in Auckland.  Bray then collaborated with Sewell to produce plans and a kit for a similar boat in the U.S. The first result, from the Brooklin Boat Yard, is the new Aroha. Aroha means "love" in the Maori language.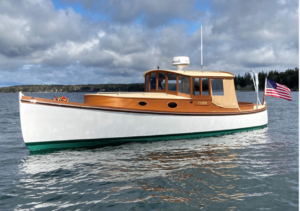 The Aroha is light and narrow enough, with a 7-foot beam, to be trailered to a variety of destinations. The hull has a cold-molded skin over a stringer frame consisting of multiple layers of diagonal planking. The original skeg was modified so it will fit on a trailer while providing protection for the prop in the water.
Specs.: LOA: 29'10"; Beam: 7'0"; Draft: 23'5"; Disp.: 3,660 lbs.; Fuel: NA; Water: NA; Power: 38-hp Beta Marine diesel. Read more: