The iconic Bitter End Yacht Club, one of the most popular cruising, charter and watersports vacation destinations in the world, is getting ready to open up again.
Located on 64 acres with a mile of waterfront on Virgin Gorda in the British Virgin Islands, the Bitter End, along with most other resorts and charter fleets in the area, was destroyed by Hurricane Irma in 2017.
Founded in 1969, the Bitter End got its name because it's the last island outpost before the Caribbean meets the Atlantic. But its very location, on North Sound at the east end of Virgin Gorda, has made rebuilding difficult; so attractive to visitors and guests in normal times, the remoteness has made it difficult to get materials and workers there in the post-hurricane rebuilding period.
Over the years, the Bitter End developed a world-wide reputation. Indeed, Travel + Leisure once called it "the place to stay in the most beautiful place on earth."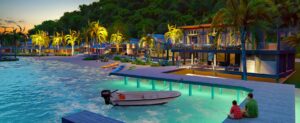 The new Bitter End will look a bit different from the one we remember, although it still will be tailor-made the cruising community. It will still have the protected deep-water harbor, the trade winds that make cruising easy, the proximity to coral reefs that beckon for snorkeling and picture taking.
But it will open with a new two-story Quartermaster Club overlooking the marina where you can stay in new Marina Lofts built over the water. It also will have shops, gourmet provisioning, restaurants and a new version of one of the oldest bars in the BVI.
You can find out more about the Bitter End Yacht Club 2.0 at http://beyc.com