A 35-foot totally autonomous tugboat is ready to start a 1,000-nm cruise around Denmark controlled by captains operating a computer system with 300 main processors back in Boston, Massachusetts.
The tug, named Nellie Bly, was made by the Damen yard in the Netherlands, and it is run by Sea Machines Robotics in Boston. The goal of the cruise, named Machine Odyssey after Homer's epic poem, is to determine if such a voyage, including stops at 14 ports along the way, is possible for a commercial vessel.
The tug is scheduled to leave Hamburg, Germany, on Sept. 30. It will have two professional captains on board, as well as a rotating cast of several passengers. But it will be totally under the control Sea Machines' SM300 autonomous "sensor to propeller" system in Boston that uses what the company calls path-planning, obstacle-avoidance, vectored nautical chart data and dynamic domain perception for the entire trip.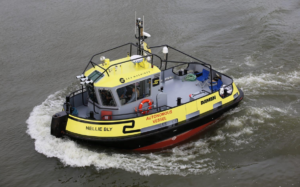 The controllers in Boston will see live augmented pictures of the tug's state, situational awareness, environmental data and real-time audio and video from a multitude of on-board streaming cameras.
Michael Johnson, the CEO of Sea Machines, said the company "takes it as our duty to embark on new waters, motor through any and all fog of uncertainty, and prove the value within our planned technology course."
You can watch Nellie Bly's voyage via streaming video on the company's website, http://sea-machines.com