Raymarine just introduced its new YachtSense control system to the U.S. at the IBEX boat builders' show in Tampa. YachtSense is a digital switching system that connects all the boat's systems so the captain can be aware of what's happening in real time.
"YachtSense is the new standard in premium digital control solutions for today's most sophisticated vessels," said Jamie Dery, Raymarine's VP of the Americas.
Raymarine says the system is unique because of its scalability, its options for various configurations, and its safety features. It uses a modular architecture, starting with a Master Module and a Power Supply Module and then building up to additional multi-channel modules. They interface with specific types of devices and systems – lighting, pumps, genset, windlass, swim platform, climate control, and much more. The modules are housed in waterproof enclosures and come with a three-year warranty.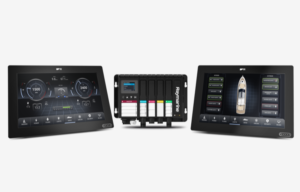 YachtSense gives captains total control of the onboard systems via a simple touchscreen operation on the MFD at the helm. There's also a remote option so the captain can control the systems from anywhere on the boat. You also can use an integrated keypad for a manual override.
The idea is that the captain can constantly monitor all the systems and find any anomalies before they become problems, whether it's the status of the genset or the mood lighting in the salon. Read more:
http://raymarine.com/yachtsense