Sir Richard Branson's original resort on Necker Island in the BVI wasn't all that shabby. Indeed, you could relax there with the Private Family Hideaway package, including a six-person private jet, private pool, a DJ, and a Great House with 20 bedrooms, for $137,000 a week.
But now Branson has opened a smaller and even more upscale resort on Moskito Island, only two miles away, where offseason rates start at $19,000 a night for the Oasis Estate and $17,500 a night for the Point Estate. But those rates include an estate manager, private chef and staff, all meals, drinks and watersports. Another option is the 19,000 square-foot Branson Estate, which had been used as an overflow from Necker.
Moskito also has a Beach House, a communal hub that's shared by all guests, with its own infinity pool, tennis pavilion with two artificial grass courts, a gym and a bar. The experiences there include game nights, guided hikes, a beach Olympics, and pizza-making classes for kids. If that's not enough, you can take an excursion to the Baths on nearby Virgin Gorda or spend the day sailing, kite surfing or trying your skills on SUPs.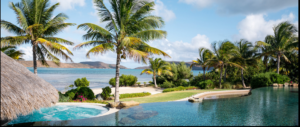 On the highest point on the island, the Oasis Estate is a palatial, modern beach house designed to look like a yacht. With four stories and room for 18 guests, it blends the indoors and the outdoors, offering 360-degree views of the Caribbean.
The master suite is 800 square feet and there are five more rooms in the main house plus three more by the pool, each with its own kitchenette. All told, the Oasis Estate has multiple bars, a billiard room, movie room, and a rooftop deck with views of the estate's own waterfall.
The Point Estate, on the other side of the island, is built into the side of a cliff, and is made up of a series of pavilions that can house up to 22 guests. It's made for family reunions or large groups, with eight bedrooms and two master suites. The wraparound infinity pool is said to provide the best sunset views on the island. You can take steps down to the beach. Read more:
http://virginlimitededition.com