Just in time for Christmas shopping, or long winter evenings in front of the fire: a new LEGO replica of the Titanic, one of the largest LEGOs yet, with 9,090 pieces.
The LEGO version of the Titanic is on a 1:200 scale. It's 18 inches high, 7 inches wide, and 54 inches long. The real Titanic, which sank in 1912 in one of the greatest shipping disasters of all time, was 883 feet long.
As you try to put together the LEGO Titanic, you can channel your inner Celine Dion as you assemble some of the favorite scenes from the iconic James Cameron's movie. The LEGO model divides into three sections, so you can see the interiors, with cross sections of the grand staircase, the smoking lounge, the boiler room, and more.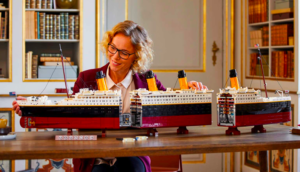 For the exteriors, you can see the lifeboats, cargo cranes, swimming pool, promenade deck and the ship's bridge. The model has functioning anchors that can be lifted and lowered, and the oversized engines have moving parts; if you turn the props, the pistons go up and down.
LEGO says the Titanic is its second largest ever, just behind the LEGO Art World Map with 11,695 pieces. The LEGO Colosseum is third, with 9,036 pieces.
"At the time of its launch, the Titanic was the pinnacle of nautical engineering, the largest moving vehicle ever created," said Mike Psiaki, LEGO's master designer. "It has been an incredible journey to recreate this iconic vessel from LEGO bricks, using blueprints created over a century ago."
The LEGO Titanic will go on sale Nov. 8. It costs $629.99. Read more: https://www.lego.com/en-us/product/lego-titanic-10294