The third week of October is pushing the boating season in Connecticut, but there we were, heading out of Mystic Harbor at about 35 mph in hull number one of the head-turning Reward 17, grinning from ear to ear.
Even though we were going into a 15-knot or so headwind, with 3-foot seas, the Reward 17, driven by a 170-hp Rotax engine and a waterjet, delivered a ride that was soft and easy.  To show the boat's maneuverability, Chris Ashley, who designed it and built it, turned the wheel and put us into a jet-drive turn; an immediate turn. But still the ride was soft and easy.
My conclusion: The Reward 17 is fun to look at, and it's fun to drive. It's also unique, a retro-looking gentleman's racer or harbor runabout with a 1930s style that harkens back to the glory days of big commuter boats (Ashley designed the transom to look like the one on the iconic commuter Aphrodite) without any of the problems associated with wood and teak and varnish.
The entire boat is fiberglass, and the topsides are painted. All you have to do is hose it down after you bring it back to the dock or load it on the trailer; in fact, the Reward comes with a six-year, no maintenance warranty.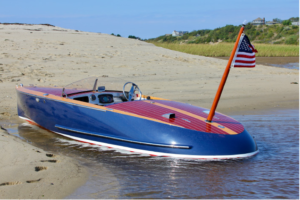 It's also low to the water. As we came back into the harbor, the railroad bridge was down (we could hear the Amtrak train on its way). We waved to two guys on a new Axopar 28 waiting for an opening, while we just ducked under the bridge, with its eight-foot clearance, without any problem.
The Reward 17 has a conventional V hull, with an 18-degree deadrise at the transom. Despite its wood looks, it's laid up with vacuum-infused vinylester resin and cored laminate; it's light, stiff and strong. Ashley says the boat has topped out at 46 mph with one person on board.
It has a plumb bow and then the sheerline runs back gracefully to some tumblehome at the stern and the tapered, rounded transom. Welcome to 1935.
For protection in salt water, the Rotax has closed-loop cooling and raw-water exhaust cooling. The shifting is easy and high-tech, made possible by an intelligent Neutral Reverse (iNR) electronically controlled reversing bucket; it controls the neutral and reverse positions as well as the speed.
There are no secrets associated with the Reward. What you see is what you get. There aren't any grab rails or railings. There are two seats facing a dash with a tach and speedo and Boss sound system; a rear-view mirror is centered above the dash and below the low, two-part windshield. A hatch on the foredeck holds fenders, lines and other gear.
The boat is entirely Ashley's brainchild. An engineer by training, he loved wooden boats, and bought a 1952 Chris-Craft after he graduated from Cornell and restored it. Then came an assortment of other restorations, including some St. Lawrence River skiffs and an Old Town lapstrake, plus a new Adirondack guide boat.
Then Ashley wanted to build his own boat, and he took a Woodlawn Yacht Design course. And four years ago he started working on a 17-foot retro runabout called the King Hell Attitude, with a Harley-Davidson engine and motorcycle seats and handlebars. It was a wooden boat, and while it was a fun project, it did not set the market on fire.
Ashley went back to his CAD programs and started working on the fiberglass Reward 17 just in time for the Covid pandemic. He made the boat in his shop in Weston, Massachusetts, just outside Boston, and launched it July. He displayed it on land, on a trailer, at the Newport show in September, where it drew a lot of attention.
As we headed back to the dock in Mystic, I told Ashley I was impressed by both the ride and the performance. We passed a 60-foot sailboat also starting to tie up. The couple on board both looked at the Reward and waved. "Life is too short to have an ugly boat," Ashley said.
The Reward 17 is priced at $72,000, and that includes everything. The only options are a trailer and a boat cover.
Ashley is taking orders now, and expects to ramp up production soon. If all goes well, he will launch a 23-foot version in a few years.
Specs.: LOA: 16'11"; Beam: 5'1"; Draft: 10.75"; Disp.: 1,400 lbs.; Fuel: 18 gals.; Water: NA; Power: 1×170-hp Rotax water jet. Read more: