RS Electric Boats will start making a new 20-foot all-electric RIB in January, with plans for at least 50 more next year. If the new RS Pulse 63 catches on, the UK-based company says it can make 100 or more in a year.
The Pulse 63 is powered by a standard 400V, 47kW lithium-ion Hyperdrive power pack, and it tops out at 23 knots – for a short period of time. At 20 knots, the RIB can run for 90 minutes with a range of 30 nm.  At 15 knots, it has a range of 45 nm, and at 10 knots, a range of 70 nm. You can get an optional 23kWh power pack if you want more range, but the added weight also will affect the boat's speed.
The new RIB Is 20' 6" long with an infused hull and either PVC or Hypalon tubes. The decks are modular, with a standard center console and a single front seat.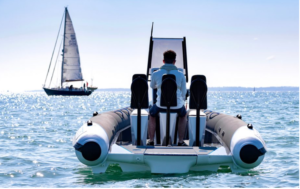 The boats are virtually silent, and they won't disturb people on the mothership if they're used as tenders; they also won't disturb wildlife if you want to explore a new cove or harbor. Since they do not use any fossil fuel, they leave no water pollution behind.
They are eco-friendly and built with sustainable materials. The deck, console, engine box and hatches are built from recycled carbon fiber. And RS Electric Boats uses a lightweight laminate that is strong and long-lasting.
For recharging, a 25kW fast charger will deliver a full charge in two hours. An optional 75kW charger will deliver a full charge in 30 minutes. Read more: