Hacker-Craft, the iconic builder of mahogany boats on Lake George, New York, is starting a new line called the Evolution Collection, designed to represent growth and forward momentum.
Erin Badcock, the company's CEO, wrote me that "Hacker-Craft has been focusing on our brand, building on our legacy, while continuing to grow and innovate." The new Evolution Collection, with three different models, represents that direction.
Ever since 1908, Hacker-Craft has built boats with classic lines and meticulous craftsmanship. For almost 100 years, they have defined the Golden Age of yachting. Now the company wants the Evolution Collection to define a new era.
On a personal note, I've always loved the way Hacker-Crafts look. And I also loved the way they handled, once I got behind the wheel of a few of the classic models on a summer day on Lake George. Yes, they're fun to drive, but it's also fun to know that you're riding on a beautiful boat that will turn heads wherever you take it.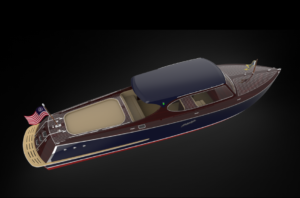 The new models are the Commuter, the Center Console, and the Monaco. The Commuter (pictured here and at the top) is the flagship of the new line. It's 37' 5" long, with a hardtop for weather protection and an open-style cabin. Power comes from twin Ilmor gas engines.
The Center Console is a 30-35-foot vessel, built on the company's sport hull frames, and is designed for either twin Ilmors or outboards.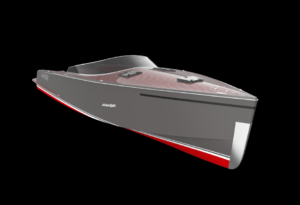 The Monaco (above) is the most contemporary of the three Evolution models. It's offered as a 40-foot concept design with an open transom and twin Ilmors. It has open seating, a large swim platform and a cuddy cabin that can be customized for a V-berth, a galley and a head.
All three models can be customized, including choice of hull colors, deck stains, interior arrangements and engine configuration. "The beauty of our build process, working with mahogany and hand-applied epoxies and fiberglass, is that we are able to customize our designs without the impact of altering tooling," Badcock said.
Even the lengths of the models can be customized. Badcock says Hacker-Craft already has received inquiries for a Commuter at 26' 5"; a Center Console at 28', and a Monaco at 35'. Read more: