Ever since C. Raymond Hunt first developed the Deep-V hull more than 60 years ago, it's been the hull of choice for Hunt Yachts and many other brands around the world for its superior offshore performance.
But Ray Hunt could not have foreseen the latest iteration of a his Deep-V: It's now on a new line of Red Voyager inflatable stand-up paddleboards, because it's said to cut through the water easier, providing a smoother ride for the person standing on top.
The Red Paddle Company is using a Deep-V on three Voyager SUPs to make cruising long distances safer and less tiring. The hull tapers the cut of the inflatable's drop stitch, so the nose of the board breaks the surface tension as the SUP glides through the water.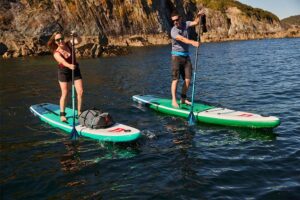 Red Paddle makes a wide variety of SUPs from 10' 6" to 22' 0". The Voyager SUPs, new for the 2022 model year, start with a 12' 0" board for $1,649. A 12' 6" Voyager is made with extra stability and rigidity and costs $1,699. The flagship 13' 2" Voyager was "created with epic adventures in mind," and costs $1,749.
The Voyagers can carry up to 242 pounds, and they're stable enough to hold a dog or child on board. They have five carrying handles to make launching easy, and there are three flat bungee cargo straps to carry gear.
The company also has redesigned a backpack to hold the SUPs and paddles, so the entire package would fit easily in a lazarette or the trunk of a car.
The Red SUPs come with a five-year guarantee, and you can buy them at REI stores. Read more: