Spirit Yachts is working with BAR Technologies in the UK to build a high-tech, electric-powered, foiling speedboat that's modeled on an American Gold Cup racer from the 1920s.
The new boat, called the Spirit 35 Foiler, will have an Alaskan yellow-cedar frame covered with carbon fiber, solid titanium retractable foilers, and African Sipo wood topsides. Sean McMillan, the CEO and chief designer of Spirit Yachts, says he drew the boat along the lines of the classic 30-foot Baby Bootlegger racer that was powered by a converted World War 1 type Hispano Suiza aircraft engine and won the Gold Cup in 1924 and 1925 with a top speed of about 50 mph (see picture below).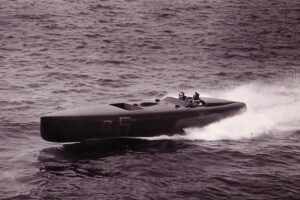 A custom boat, the Spirit 35 Foiler was ordered by the same European customer who had ordered a 111-foot sloop from Spirit and wanted a chase boat that would stand out from the crowd.
The Spirit 35 will have fully electric power, but we don't have any details yet. It has a narrow beam of just 7' 6" and a displacement of 5,280 pounds. Top speed is predicted at about 27 knots, and the boat will have a range of 100 nm at 20 knots. It starts to foil, or fly, at about 14 knots.
The boat has a modified-V hull with a sharp entry, a single step, and flattened sections toward the transom. The foils retract for displacement-speed cruising or docking. They have a single T-foil rudder aft and a twin leg and single bar forward.
After the basic boat is built, it will be taken to the BAR Technologies yard for installation of the hydraulics and foiling controls. BAR has considerable expertise in foiling technology, and worked with Sir Ben Ainslie's foiling America's Cup yachts. Read more: