Sergio Davi, the Italian adventurer, hit an unexpected road bump on his 10,000-nm voyage from Palermo to Los Angeles on his Nuova Jolly 38 RIB. He tested positive for Covid after he landed on Grand Canary Island (see the picture above).
Davi has just mild symptoms and self-isolated in a hotel. He hopes to be able to resume his Ocean to Ocean RIB Adventure in one or two weeks.
The longest ocean crossings of the entire trip will face him when he starts again; first, an almost 900-nm leg from Grand Canary to Cape Verde, and then an almost 1,800-nm crossing from Cape Verde to French Guiana in South America.
The boat, named Aretusa Explorer, is powered by twin Suzuki DF300B outboards with counterrotating duo props, and it carries Simrad electronics. Technicians will dial in the engines and the electrics while Davi recovers from his illness.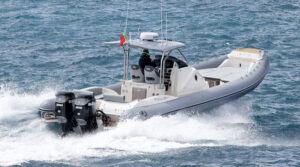 The Aretusa Explorer has two internal fuel tanks and removable external plastic fuel tanks and bags for the next two legs. It will carry 1,717 gallons for the Cape Verde to French Guiana voyage.
Davi, a 65-year-old professional captain, started his adventure in Palermo on  Dec. 15, and made stops in Mallorca, Gibraltar and Lanzarote before arriving in Grand Canary Island. Before the Covid-related delay, he estimated that the entire trip would take 100 days. He will be cruising solo for at least 25 of those days, while sponsors and friends will join him on others.
He also planned on making some side trips, heading over to the Galapagos, for example, after transiting the Panama Canal and before heading up the coast of Mexico.
The boat measures 34' 8" LOA with a beam of 9' 8" and a maximum deep-V draft of 25 degrees for open-water performance. Davi was running at about 24 knots for most of  his trip so far. The boat is capable of hitting a top speed of 60 knots.
It has a full suite of Simrad electronics, including GPS, chartplotter, radar, AIS and autopilot. He also has an EPIRB and a PLB for safety. On board, Davi eats canned goods or dry food.
This is hardly Davi's first ocean-crossing adventure.  In 2019, he cruised from Sicily to New  York, also on a similar Nuova Jolly RIB. On this trip, he will collect sea water to measure the state of the marine ecosystem for two Italian universities. You can follow his trip here:
https://www.ciuriciurimare.com/avventure/ocean-to-ocean-rib-adventure-2021-22/