Sunreef just launched its new all-electric 80 Eco catamaran at its yard in Gdansk, Poland. The company says it represents the next generation in green energy and offers unlimited range for luxurious cruising.
The Sunreef 80 Eco can be ordered in sail or power versions. It uses ultra-light composite solar panels that are integrated into the cat's hull sides, superstructure and Bimini; they can deliver up to 40kWp. Sunreef says its ultralight battery bank is 30 percent lighter than the average used in the boating industry; the big cat's batteries can store from 360kW to 640kW.
The advantages of the all-electric cat are that it offers silent cruising and infinite range with twin electric engines powered from the battery bank. The yacht produces no fumes or vibration and the electric propulsion system requires little maintenance. Its green features include a DC-powered air-conditioning system and water-making system.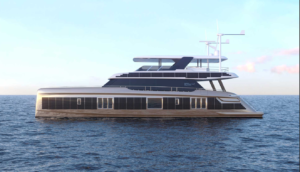 The Sunreef 80 is a massive cat, with a beam of 39' 3" and an overall length of 78 feet. The wide beam provides an enormous amount of interior and exterior space, and most of it can be customized as each owner wishes.
The bow terrace, making use of the entire beam, is a major social and lounging area. It can be accessed directly from the salon. The fly bridge is large enough for a spa pool, a wet bar and seating and sunning areas all around.
The master suite can be set up in the bow section of the main deck with a double bed facing the foredeck terrace; it's filled with light from the skylight glazing. If an owner wants to have the master suite in one of the hulls, that space can be used as an extra lounge on the main deck.
The galley can be ordered either as part of the main deck salon, or on the lower hull where it – and the crew quarters – can be accessed from the cockpit for privacy. The yacht holds 12 people plus four crew. Read more at   http://sunreef-yachts.com and see the launch video here: