General Motors just gave a big boost to electric boating when Pure Watercraft, with the help of a major investment from GM, unveiled its electric-powered pontoon boat at the Consumer Electronics Show in Las Vegas.
Founded 11 years ago in Seattle, Pure Watercraft says it wants to disrupt the boating industry with its new electric outboard motors. GM, the automotive giant, bought a 25 percent stake in Pure Watercraft in November, investing $150 million. GM said its goal was to help create a new generation of zero-emissions boats.
The new pontoon boat that Pure Watercraft just unveiled is 24' 7" long and can hold ten people. It comes in two versions, both with a 66kWh GM battery pack. One is powered by a single 25kW Pure Watercraft electric outboard with a range of 32 miles at a top speed of 14 mph, or 120 miles at 5 mph.
The other is powered by two Pure Watercraft 25kW outboards with a range of 26 miles at 23 mph or 120 miles at 5 mph. Prices start at $45,000 for the single outboard boat, and $60,000 for the twin.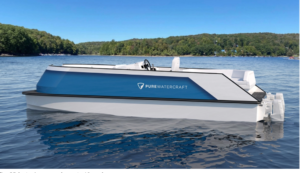 With its headquarters on Lake Union, Pure Watercraft raised $37 million before the GM partnership, including an investment from Jeff Wilke, the former CEO of Amazon Worldwide Consumer. It now has leased a factory in Tukwila, just below Seattle, with 55 employees.
"A relentless focus on efficiency led us to a more efficient hull shape (including a foil assist), which enabled us to deliver a superior boating experience at a price comparable to that of conventional boats," Pure Watercraft CEO Jeff Wilke wrote in a statement.
GM's involvement gives Pure Watercraft access to its engineering, supply chain and manufacturing expertise.
Pure Watercraft is now taking orders for the boats on its website; it expects to deliver the first ones later this year. Read more:
https://www.geekwire.com/2022/seattles-pure-watercraft-unveils-electric-pontoon-boat-as-gm-collaboration-accelerates-quickly/