The Aero 45 is a new kind of RIB. Indeed, its Swiss builder, A-Line Marine, calls it an "all-weather, pocket super yacht."
Named for the Greek word for "air," the Aero 45 has side forming air tubes that are supposed to limit roll during cruising and at anchor. They also are intended to absorb much of the vibration caused by slamming into a head sea, while retaining the boat's buoyancy.
The aluminum hull is lightweight and designed for performance. It has a patented deflector technology with two deep transverse steps. Powered by three 450-hp Mercury Verado outboards, the 45-foot RIB tops out at 60 knots. You can also order it with one Yamaha XTO (56 knots), or twin Volvos (50 knots).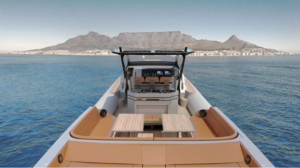 The new RIB is a combination of a luxurious day cruiser, a tender, and a head-turning overnighter. The cabin below can sleep two adults and two children; there's also a large head with a separate shower.
The Aero is a social animal. It can hold up to ten people up top in large seating and lounging areas, including a sun pad on the foredeck and another one aft. The center seating area has a U-shaped sofa and a folding seat on the aft side of the console holding the wet bar, fridge, grill, cooktop and sink.
The T-top can be covered with semi-transparent solar panels that could provide enough energy to power the boat's onboard systems. A-Line Marine says it will customize the T-top and almost everything else on the boat to suit a new owner's wishes. Read more: