China just launched a fully autonomous, "revolutionary" research ship that is powered by artificial intelligence and that the director of the Southern Ocean Laboratory there calls a new "marine species."
The ship, Zhu Hai Yun, can carry drones, submersibles and smaller ships on its deck to carry out marine research, and can navigate the ocean waters via remote control. The state-owned Science and Technology Daily said the ship is equipped with an Intelligent Mobile Ocean Stereo Observing System (IMOSOS), described as a one-of-a-kind artificial intelligence system.
The Zhu Hai Yun is 290 feet long, with a 45-foot beam and a 20-foot draft. It was built at the Huangpu yard, a subsidiary of the China State Shipbuilding Corporation, and it's owned by the Southern Ocean Laboratory at Sun Yat-sen University. Here's the story from cityofzhuhai.com
Zhu Hai Yun smart unmanned vessel begins sea trials
(cityofzhuhai.com)
China's first intelligent unmanned system mother ship was launched in Guangzhou on May 18 to begin further sea trials of its core equipment, as well as intelligent and unmanned systems, with the goal of starting operations by the end of this year.
The Zhu Hai Yun vessel is subordinated to the Southern Marine Science & Engineering Guangdong Laboratory (Zhuhai) and is named after the city of Zhuhai. Advanced designs were applied on the ship, making it China's first scientific expedition vessel with remote control and open water autonomous navigation functions. It is expected to bolster China's marine scientific research and marine economy development.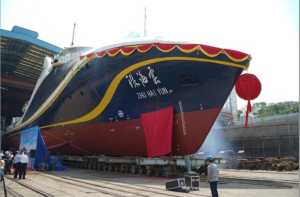 The unmanned vessel is 88.5 m (290 ft) in length, 14 m (46 ft) in width, and 6.1 m (20 ft) in depth, with a designed draught of 3.7 m (12 ft) and water discharge volume of 2,000 metric tons. It can travel at a maximum speed of 18 knots and cost-optimal speed of 13 knots.
The ship boasts a spacious deck that is able to carry dozens of air, sea, and submarine unmanned system equipment, as well as observation instruments. It can be deployed to targeted sea areas and form a task-oriented adaptive network to realize three-dimensional dynamic observation of specific targets.
Construction of the vessel started on July 20, 2021, while its core components, including the power, propulsion, intelligent, and survey operation support systems, were independently researched and developed in China.
Upon its operation, it is expected to change the traditional marine observation mode, obtain real-time three-dimensional marine observation data, as well as improve the efficiency and level of marine observation, which will support the cultivation of high-end marine technology talents and bolster marine science and technology innovation. Read more: