Just across the border in Canada, the marina at Poets Cove Resort & Spa on South Pender Island is a little gem of a destination in the Pacific Northwest, offering peace and quiet in a luxurious setting with some of the best sunsets you'll ever see.
It's not a surprise that the marina, with 110 slips, is the host of some boating rendezvous; indeed, Ranger Tugs and Cutwater Boats owners were just there. But it's also no secret that the marina, set well into the protected end of Bedwell Harbour, is a great stopping point for anyone in the summer and shoulder season.
I've personally been there several times, at the start of trips up the coast or all the way up the Inside Passage to Alaska, and once on a charter from NW Explorations in Bellingham, Washington, with my youngest daughter Liz. On that trip, we had a Grand Banks 36, a sistership my own boat, and we left Bellingham in mid-morning and were tied up at Poets Cove by mid-afternoon.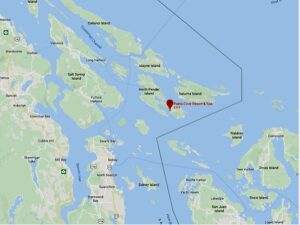 One of the attractions of Poets Cove is that it offers beautiful cruising destinations in many directions. When we left, for example, we just cruised down a few hours to Roche Harbor on the northern tip of San Juan Island, back in the U.S., passing several whale watching expeditions (and quite a few whales) along the way.
The marina at Poets Cove is modern and easy, and the Canadian Customs office is at the top of the ramp. The resort is first-class, with lodge-type rooms and cottages, two outdoor swimming pools, and a pub with terrific views.
With slips for boats up to 100 feet, the marina has 15- and 30-amp power, gas and diesel, clean restrooms and showers, laundry facilities and access to the resort's lower pool. A gift shop, coffee bar, and beer and wine store are a few steps away. There's also a tennis court and kayak rentals, if you want some exercise.
South Pender is separated from the larger North Pender by a narrow canal that was dredged in 1903; both islands have a permanent population of about 2,100 people. South Pender contains part of the Gulf Islands National Park, with great hiking trails up to Mount Norman, and the island is dotted with small coves and headlands that are ideal for exploring by kayak or small boat.