Prestige Yachts, the upscale French builder, is taking the world of luxurious yacht interiors to a new level.
Prestige just formed a partnership with Swarovski, the Austrian maker of world-famous crystal glass since 1862, to design a limited-edition Prestige 690 with lavish, light-catching and over-the-top Swarovski surfaces and inserts.
For the new yacht, Prestige and Swarovski redesigned the standard interior of a 690 to create panels of Swarovski's unique Crystal Compound elements, made from a complex glass panel with Swarovski crystals.
The decorative panels are created with a glass backdrop with the embedded crystals. They are then combined with grey oak wood for contrast.
These custom design elements are featured in the main-deck salon and in the owner's stateroom and en suite head on the lower accommodations deck. The idea is that the crystals reflect sunlight during the day and create a romantic atmosphere in the evening.
Erwin Bamps, the Prestige brand director, said it was inspiring to work with Swarovski, because it shares Prestige's "values of craftsmanship, purposeful innovation and the relevance of offering clients a sensorial experience."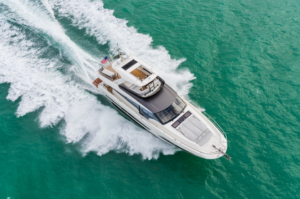 Prestige is part of the large Beneteau Groupe, and makes top-line yachts from 40 to 70 feet. Swarovski is a family-owned producer of high-quality crystal glass with 3,000 stores in 170 countries. Read more:
https://www.yachtingart.com/2022/06/prestige-690-limited-edition-swarovski.html