A 68-foot fishing trawler hit the midsection of a 965-foot cruise liner about 40 nm east of Nantucket early Saturday morning.
The Coast Guard said it received a call at 2:25 a.m. reporting the accident. One person on the fishing boat, the Gabby G, was injured and treated at the scene. No one was injured on the Norwegian Pearl cruise ship, which was on a voyage from Boston to Bermuda.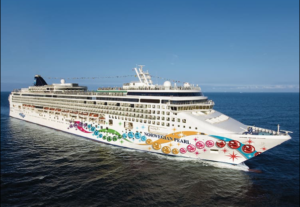 The collision caused some damage to the Gabby G, and chipped some paint on the Norwegian Pearl. The Gabby G returned to its home port of New Bedford, Massachusetts, arriving about 5:30 on Saturday evening.
The Norwegian Pearl holds 2,394 passengers, and it was able to continue to Bermuda, arriving on Sunday afternoon. Built in 2006, it displaces 93,530 GT. Read more:
https://www.nantucketcurrent.com/fishing-vessel-collides-with-cruise-ship-off-nantucket