Chief Petty Officer Feco, who was honored at a ceremony in Washington, D.C., this spring, just retired from the Coast Guard in another ceremony at the Coast Guard base in Alameda, California.
Feco, a nine-year-old Hungarian Vizsla, joined the Coast Guard in 2014, and has been a member of its San Francisco Canine Explosive Detection Team ever since. Over the years, Feco and his lead handler, Petty Officer 1st Class Cory Sumner, have participated in more than 1,500 events, including such high profile gatherings as several Super Bowls, major league baseball games, golf tournaments and Fleet Week. They also have conducted security sweeps for many heads of state and for Presidential motorcades.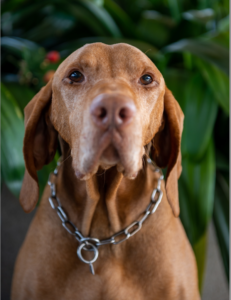 The Coast Guard has 18 canine detection teams around the country, consisting of a handler and a working animal. The dogs start their Coast Guard careers with 15 weeks of training at an explosive detection center in San Antonio, Texas.  While he was there, Feco learned how to detect 25 different odors representing potential threats. He is also a veteran of helicopter hoist training.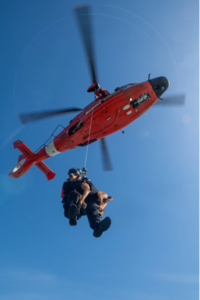 This spring, Feco received an Animals in War and Peace Distinguished Service Medal at the Rayburn House Office Building in Washington, D.C. He seemed somewhat unfazed by the event.
Now, Sumner will adopt Feco in his retirement. He praised the animal, saying, "Even when faced with adversity, Feco always did his job." When Feco had potentially fatal surgery for a fungal infection recently, Sumner said, "Feco made it through the surgery, then passed three required evaluations to remain certified and continued serving our country." Read more:
https://coastguardnews.com/feco-retires/