Aspen Power Catamarans just launched their new Carbon Cat, a series of innovative rigid tenders with a lightweight hybrid hull for stability and efficiency.
The hull form, with a patent in process, has a deep, single entry forefoot and then gently widens aft and resembles a modified catamaran for stability and lift. The boats are built with a lot of carbon fiber construction (therefore their name). And they're strong; there's nothing to puncture.
The company says you can step on the gunnels while boarding, or sit there underway. The boat is surrounded by a thick foam bumper made from SeaDek HD for durability. And the seating area is cushioned with SeaDek for a softer surface and sure grip. A moveable cube provides a seat you can position for driving under power or for rowing.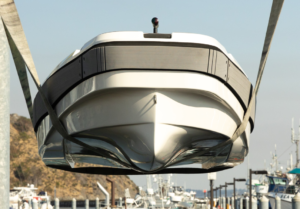 The new Carbon Cat is the latest from the fertile mind of Larry Graf, a self-proclaimed boat nut who owned 17 boats of his own before he founded Glacier Bay 1987 and then Aspen Power Catamarans, with their unique proa hulls, in 2007. Aspen Power Catamarans, in Burlington, Washington, now makes boats from 28 to 40 feet.
The Carbon Cats comes in three sizes, 9' 2", 10' 2", and 11' 2". The largest has a beam of 5' 4" and weighs 151 pounds. Powered with a single Yamaha 9.9-hp outboard, the boat has a top speed of 21 mph.
Optional removable Beachmaster wheels mounted on the transom can be deployed to roll the boat onto beaches or a boat ramp. Read more:
http://aspenpowercatamarans.com