Brunswick's recently formed Navico Group just launched what it calls "the world's most advanced power system" that could replace generators on powerboats.
Navico's totally new Fathom e-Power System links lithium-ion batteries with the boat's charging systems, power conversion, distribution, digital switching, and control and monitoring. It ties all the electrical components together, providing house power for communications, entertainment, lighting, audio, air conditioning, heating, gyro stabilizers and appliances.
All that linkage means that the boat no longer needs a generator, which takes up space and requires fuel and maintenance. The Fathom system is silent (certainly an advantage in a mooring field at night) and does not result in any vibration or carbon emissions.
The system is made possible by combining a lot of Navico Group brands, including Mastervolt, for lithium-ion batteries and chargers; BEP, for AC distribution and digital meters; CZone, for digital switching; Ancor, for wiring, and Blue Sea Systems for relays and switches.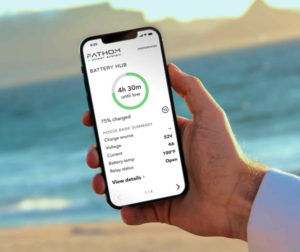 The Fathom ePower systems are available in customizable and prefigured kits for three sizes of boats: Small (under 27 feet), Medium (27 to 34 feet), and Large (35 feet and up). All the hardware and software is compatible with the Fathom e-Power system and third-party hardware. The kits are scheduled to launch in 2023.
You can track and control all the Fathom's systems on a smart phone or watch. The display shows the battery status with an all-important "time to empty" indicator.
Brunswick says the Fathom ePower System means larger batteries with longer lives that provide  higher performance for all a boat's electrical needs. The system is easy to install, an important consideration for the OEM market.
Read more at http://navico.com and see the video below: