The TEMO 1000 is an innovative, lightweight, all-electric outboard that's made to power tenders and RIBs and small sailboats.
It also has a clear appeal. Since it's powered by a 1,000-watt electric motor (the equivalent of a 3-hp gas outboard), you don't need to carry a gas tank on board, and there are no noise, fumes or pollution either.
The TEMO 1000 consists of a rudder-shaped shaft with the motor at the bottom and a long, thin battery that slides down into it. You don't need to connect any wires or plug it in; it connects automatically.
And its slim transom bracket means you can adjust the height to fit your boat's transom. There's no need for a long-shaft or short-shaft version. The blue tiller handle disappears completely when you're not using it; it's never detached, so you won't lose it.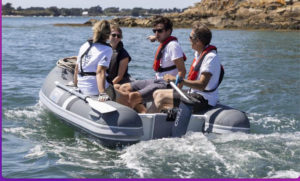 The new TEMO has a 740-Wh lithium-ion battery that gives it a range of 45 minutes at top speed or about an hour at cruising speeds. The battery takes 5.5 hours to recharge completely, but you can buy a spare battery and just slide it in.
The outboard is extremely light. It weighs just 10 pounds, plus another 11 for the battery. It's easy to fit in the trunk of your car if you don't want to leave it on the boat when you're away.
The TEMO 1000 follows the introduction of the French company's first outboard, the TEMO 450, three years ago. It has a different design. The 450 is available in the U.S. at Defender Industries. The new 1000 is made for larger tenders and sailboats up to 26 feet.
The company says the TEMO 1000 will be available in February. It costs about $2,700. Read more at http://temofrance.com and see the video below: