To my mind, the Low Country, the winding, tidal flats and marshlands that run through the southern part of South Carolina, is the best part of the Intracoastal Waterway. You can't be in a hurry; there are so many S-curves that you can think you're cruising back on yourself. But that's the point. Everything is virtually at sea level, with an absolutely golden hue at the beginning and end of the day, so it's easy to relax and feel peaceful about the world.
Dating to 1711, Beaufort is one of the most inviting spots there. You can choose from several marinas and then stroll through the small Southern town where Spanish moss hangs from the trees and shrimp boats dot the waterfront. The highest spot in town is ten feet above sea level.
If Beaufort looks vaguely familiar, that's because you've probably seen it before. Indeed, it was the setting for Forrest Gump, The Great Santini, The Prince of Tides, and The Bill Chill, among other Hollywood productions. It's an understatement to say that Beaufort is picturesque.
And it's old, the second oldest city in South Carolina, after Charleston. Beaufort was prosperous in the early 18th century, with sea island cotton planters building Federal-style mansions along the waterfront. For a while, it was called the Newport of the South.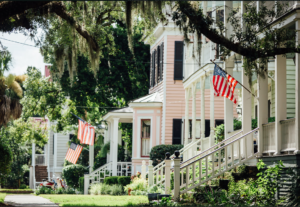 The U.S. Army occupied Beaufort during the Civil War, which meant it escaped any fighting. In fact, it was safe until 1893, when a hurricane killed 3,500 people and wiped out the phosphate industry, the leading business at the time.
Today, the entire downtown area of "Beautiful Beaufort" is listed on the National Register of Historic Places. It's one of the largest sea islands on the Atlantic Coast, at mile 535 of the ICW (Norfolk, Virginia, is mile zero). It's about 50 miles north of Savannah on the Waterway,  just north of Hilton Head and the Marine recruiting base at Parris Island (where the Waterway is occasionally closed for live-fire exercises), and about 75 miles south of Charleston.
You can enjoy the town's charms today by taking a walking tour or riding in a horse-drawn carriage. Art galleries, antique shops, boutiques and a wide variety of restaurants are all in walking distance of the main marina downtown, now named Safe Harbor Marina Beaufort. It's a modern, full-service marina with transient slips for boats up to 150 feet. Lady's Island Marina, another large modern facility, is just across a swing bridge from the historic district, with lots of transient slips. Read more: