Axopar will display its prototype 25-footer, powered by an EVOY 300-hp electric outboard, at the Düsseldorf show, starting Jan. 21. The all-electric Axopar runs for 25 minutes at 25 knots, and the batteries can be recharged in an hour.
Jan-Erik Vitalia, the founding partner of Axopar, says the partnership of the two companies was designed "to expand the boating community and offer new ways of mobility for the future."
The prototype boat was designed to cruise with zero emissions, zero fumes, and almost no noise. The prototype used EVOY's 300-hp electric motor, the largest available, with low consumption, high torque and impressive range at a normal cruising speed. It runs on 800 Volts and is powered by two 63 kWh Kreisel batteries.
The prototype hit a top speed of 51 knots, testimony to EVOY's power and Axopar's hull, and covered 25 nm at 25 knots.
The boat is something of a pan-European concept. Axopars are designed in Finland and made in Poland. EVOY comes from Norway.
Axopar wants to roll out the prototype as a production boat, a process that will take eight to 12 months. It recognizes that a major move to electric power includes a demand for investments in infrastructure and research to develop sustainable cost-efficient solutions.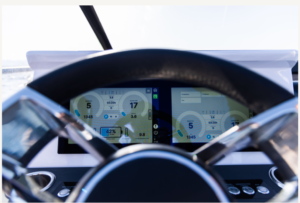 But it thinks there's a demand for smaller boats, in the 25-foot range, with electric power and offshore capabilities. The standard Axopar 25 has the capabilities of an overnight stay, with a head, shower, sink, fridge and some weather protection from its T-top. Vitalia says the Axopar 25 "is one of the rare electric boats on offer that can take  you outside of sheltered waters due to its hull design and drivability."
The 25 has Axopar's signature low-profile, narrow-beam design with a slippery 20-degree deep-V hull with twin steps. With twin 225-hp gas outboards, it tops out at 42 knots.
"Until now, our boats' unique features such as easy handling, multifunctionality and competitive prices have attracted experienced and new owner alike," Vitalia says. "The prototype for an electric day cruiser will interest and attract a new kind of customer, and bring more people out on the water."
Specs.: LOA: 25'; Beam: 7'4"; Draft: 2'9"; Disp. (without power): 3,858 lbs.; Fuel: NA: Water: NA: Power: 1×300-hp EVOY electric motor. Read more at http://axopar.fi and see the video below: