Motorola is unveiling its new Defy Satellite Link that enables two-way satellite messaging anywhere in the world on a smartphone at the Mobile World Congress this week in Barcelona.
The Defy Satellite Link means you can add satellite communications to any iPhone (iOS14 or higher) and any Android phone (10 or later) using a dongle. The Link is not integrated into the hardware of the phone; it connects to the phone via Bluetooth, and it comes with a device so you can clip it to your jacket or gear.
The Link has a 600mAh battery that's supposed to support a few days of connection. It uses Media Tek's hardware to link to geostationary satellites 22,000 miles above the Earth.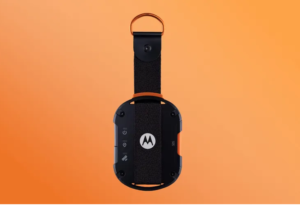 To send messages, you need the Bullitt Satellite Messenger app on our phone. That enables a two-way link via the Motorola device, so you can keep in touch even when you're out of range of cell service.
"The Defy range of rugged devices has broad appeal," said Dave Carroll, VP of strategic brand partnerships at Motorola, "and the Motorola Defy Satellite Link is especially relevant to all of us who have ever found ourselves outside of traditional messaging coverage."
The Link even has a "check in" button so you can let people know where you are, anywhere in the world, at any time.
The Motorola Defy Satellite Link costs $99, and will be available this spring. Read more:
https://motorolarugged.com/en-gb/motorola-defy-satellite-link/