Kadey-Krogen is making a new Kadey 60 Open, the second in its line of Open blue-water, long-range cruisers. It introduced the 50 Open two years ago, with an interior that seamlessly blends the salon and galley areas with the pilothouse.
The 50 Open will be on display at the Palm Beach show that starts on March 23, while the 60 is under construction at the same yard in Taiwan that's made more than 600 Kadey-Krogens in the past 45 years. During that time, Kadey-Krogen has won a reputation for building full-displacement cruisers that combine easy living on board with excellent seakeeping abilities on oceans around the world.
Standard power on the 60 will be twin 200-hp John Deere diesels, offering a range of 1,760 miles at 9 knots; 4,000 miles at 7 knots, and 5,367 miles at 6 knots. Kadey-Krogen takes great pride in its engine rooms, and the 60 has a walk-in, stand-up engine room that makes maintenance easy and long-range cruising much safer.
For a 60-foot, full-displacement boat, the 60 has a nominal draft of 5' 8" so it can head for the Bahamas or other parts of the world where deep water is at a premium. It has a skegs to protect the running gear.
It also has wing stations with engine and thruster controls to make docking and low-speed maneuvering easy; they provide clear views for the captain in any docking situation.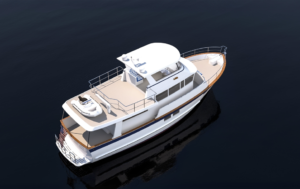 I've spent some time on Kadey-Krogens, and I know that the aft deck is a treasured social area. It's totally protected by the overhang from the boat deck above. In the salon, the galley is also one of the brand's strong points, with home-like countertops, storage and appliances. In the Open series, there's a retractable panel between the salon and the pilothouse, so you can open it for sociability, or close it if you want a more protected pilothouse (when you're running at night, for example).
The standard accommodations on the 60 Open call for the owner's stateroom full-beam amidships, taking advantage of the yacht's 19' 4" beam. The VIP is forward, and a third cabin with twin berths is on the port side. A crew cabin aft is optional.
Specs.: LOA: 63'1"; Beam: 19'4"; Draft: 5'8"; Disp.: 120,000 lbs.; Fuel: 1,800 gals.; Water: 450 gals.; Power: 2×200-hp John Deere diesels. Read more: