Numarine, the upscale Turkish builder, just announced that they're building a new 40MXP global explorer yacht with transatlantic range.
Standard power on the new 128-foot 40MXP is twin 800-hp MAN diesels, producing a range of 6,000 miles at 8 knots. Numarine says it has already sold the first two hulls of the yacht, and both clients, who are existing Numarine owners, have ordered the optional 900-hp MANs for a bit more power.
Numarine specializes in high-performance, luxury explorer yachts. Umberto Tagliavini, the Italian naval architect who has worked on many of the company's yachts, drew the hull for the 40MXP.
The MXP in the boat's name stands for Mediterranean Explorer, and it is meant to celebrate an open and opulent lifestyle that can be found there – and in many other parts of the world, as well.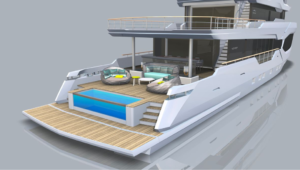 The new yacht, for example, has an unusually large and open aft deck for al fresco dining, with a bar, lounge and lots of sun pads. It also has a pool, complete with a glass transom, so you can take a dip there to cool off and still have an unobstructed view of the ocean.
If you actually want to get closer to the water, a large hydraulic swim platform stretches across the entire beam of the yacht. And if you want some shade there, an optional awning will cover the entire area.
Up top, the boat deck is large enough to carry a 29-foot tender and three jet skis, plus assorted other toys.
"What the 40MXP does so well is add fantastic outdoor living features to the design while retaining the core explorer principles of our XP line," said Ömer Malaz, the Numarine chairman.
For accommodations, the Numarine 40MXP has six suites that can hold 12 guests. The master stateroom runs across the full beam of the main deck, while the VIP stateroom also is full beam but on the lower deck.
We don't have any more details about the yacht, except that the first two hulls are scheduled to be delivered in 2025. Based in Istanbul, Numarine has built 170 yachts since it was founded 20 years ago. Read more: