Michael Mercier built his first hovercraft when he was 13 years old, working with plans from Boy's Life magazine.
Mercier's now 36, and after studying mechanical engineering at Virginia Commonwealth University and  years of dreaming and tinkering, he's launched his first personal hovercraft. It's the VonMercier Arosa, an all-electric craft that can hover about six inches above the surface (ground, water, or a combination of the two) and cruises at 20 mph but can top out (briefly) at 50 mph.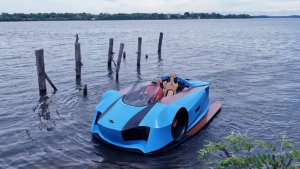 The Arosa is powered by three electric motors producing 240-hp. Potential owners can choose either an 18 kWh battery that will give them 90 minutes of cruising on (well, over) the water, or a 36 kWh that will give them three hours. They can recharge the battery by plugging into any standard electric-vehicle charger.
The Arosa has a quiet fan and it relies on reverse thrust to stop. It turns, almost instantly, around 360 degrees.
The new hovercraft has a single driver's seat in front and a passenger seat just behind it, and it can carry a total of 500 pounds. It's 16 feet long and 7' 8" wide. The body and hull are molded from carbon fiber and the craft weighs 950 pounds.
Based in Havre de Grace, Maryland, VonMercer plans to make seven Arosas this year, and twice that many next year. They cost about $200,000. Read more at http://vonmercier.com and see the video below: