Cloud Yachts of Miami says it made a breakthrough of sorts when it launched what it says is the world's first "tokenized super yacht" at the Palm Beach show last week.
What that means is that you can buy an NFT token for a cruise on Cloud's 2003 Sunseeker 94 that's docked near the Fontainebleau Hotel in Miami Beach. The token costs $500 in real money.
Cloud also has the Sunseeker, named So What Who Cares, for sale for $1.9 million. It has a beam of 21' 5", a draft of 5' 5″, and it's powered by twin 1,801-hp MTUs.
Cloud has been on the forefront of NFT yachting transactions ever since formed a partnership with some leading yacht designers at the Miami show a year ago.
The idea behind tokenizing cruises on the Sunseeker is that token holders can enjoy a cruise, any time in the next year, on a real yacht so they can sample the yachting lifestyle. Cloud says that the tokens provide an entry point to that lifestyle.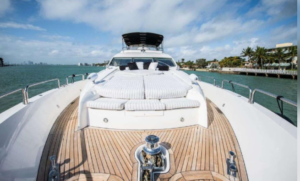 Zach Mandelstein, Cloud Yachts' founder, says he sees many more uses for NFT technology in the yachting business in the future. But right now, he says, cruising around Miami on a 94-foot Sunseeker for just $500 is a bargain.
The NFT business has been in something of a question mark for the past year with the implosion of some crypto currencies and virtual exchanges. Bitcoin, the leading currency, is now trading for $26,995; it hit an all-time high of $65,000 in November, 2021.
But tokenization won some praise recently from none other than Larry Fink, the CEO of BlackRock, the largest asset management company in the world, with $7 trillion. He said that tokenization will be "the next generation for markets," providing a way to trade stocks, real estate or alternative investments including wine, art, and yachts. Blockchain technology would trace the history of transactions and ownership. At a conference sponsored by The New York Times, Fink said tokens would provide "instantaneous settlement" and "reduced fees." Read more at https://cloudyachts.io