It's only about 3.5 miles long and a little more than a mile wide, but Harbour Island, just off the northeast coast of Eleuthera, is a little gem of a boating, fishing, or vacation destination in the Bahamas.
Once there, you won't find any casinos, high-rise condos or big chain hotels, but you will find a charming community, Dunmore Town, with pastel houses (some dating to the 1700s), winding streets, quiet resorts and vacation rentals, two first-class marinas, and Harbour Island's iconic Pink Sand Beach, a three-mile stretch of soft sand that's on almost everybody's list of best beaches in the world.
By boat, Harbour Island is about 50 miles from Nassau, and it will be easy cruising until you get to Spanish Wells, off the tip of Eleuthera. There you'd be well-advised to pick up a local pilot to guide you around The Devil's Backbone, a reef- and wreck-filled passage that leads down to Harbour Island itself.
If you want to leave your boat at home, you can fly from Miami or Fort Lauderdale to the North Eleuthera airport in about an hour. Then you pick up a water taxi to take you over to Dunmore Town in about ten minutes. Once there, you get around on foot or on a rented golf cart.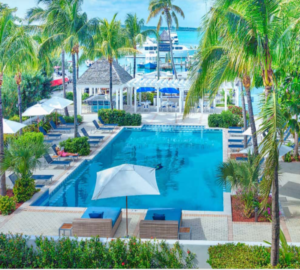 Valentines Resort & Marina (pictured above) is close to everything. It has 51 slips for boats up to 200 feet and a 14-foot draft. It also has a fuel dock, showers, pool, spa and two restaurants. If you want to eat on board, Valentines offers room service to your boat from 7 a.m. to 9 p.m. If you want to stay on shore, Valentines has a series of rooms and suites with balconies or covered patios overlooking the pool and marina.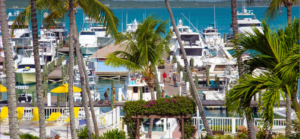 A bit farther south, Romora Bay Marina (pictured above) has 40 slips for boats up to 190-feet-long on floating docks. Like Valentines, it provides 24-hour security, internet service, water, a pool, a restaurant and a series of rooms. A path leads to the beach, less than five minutes away.
Over the years, I've stayed on board at Valentines and on shore at Romora Bay, and I thoroughly enjoyed them both. But Harbour Island, with its turquoise waters, laid-back vibe, sensational beach, friendly people and historic, charming town, is a wonderful destination, no matter where you stay. And for fisherman, there's the added appeal of everything from bone fishing on the flats to some of the best tuna, marlin and wahoo fishing in the Bahamas. Read more at http://valentinesresort.com and  http://romorabay.com and see the videos below: